NXT Championship
Details
Current champion(s)
Adrian Neville
Date won
February 27, 2014
Promotion
WWE
Brand
WWE NXT
Date established
August 2, 2012
The
NXT Championship
is a professional wrestling championship owned by WWE is competed for exclusively in WWE NXT, WWE's developmental territory. The championship is generally contested in professional wrestling matches, in which participants execute worked finishes.
The championship was first introduced on the August 2, 2012 edition of NXT when NXT Commissioner Dusty Rhodes announced a "Gold Rush" tournament, featuring five developmental roster NXT Superstars and five main roster WWE Superstars competing to be crowned as the inaugural NXT Champion in a knockout system format. The first NXT Champion was crowned on July 26, 2012, with Seth Rollins defeating Jinder Mahal in the tournament finals.
TournamentEdit
Quarter-finals
Semi-finals
Final
Richie Steamboat
Pin
 Leo Kruger
 Richie Steamboat
Jinder Mahal
Sub
Jinder Mahal
Sub
 Bo Dallas
 Jinder Mahal
Seth Rollins
Pin
Seth Rollins
Pin
 Drew McIntyre
Seth Rollins
Pin
 Michael McGillicutty
Michael McGillicutty
Pin
 Justin Gabriel
As of March 2, 2014, all champions have held the title once. At 280 days, Bo Dallas' reign is the longest in the title's history, while Seth Rollins was the inaugural champion.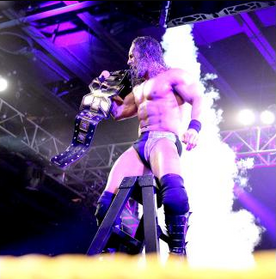 The current champion is Adrian Neville, who defeated Bo Dallas in the first NXT pay-per-view NXT Arrival.
Current ChampionEdit
Community content is available under
CC-BY-SA
unless otherwise noted.